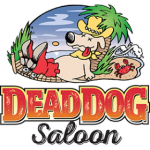 Dead Dog Saloon
Murrells Inlet, "a quiet little drinking village with a fishing problem" is the perfect home for The Dead Dog Saloon and its tongue-in-cheek homage to its mythical canine mascot, Dudley. This seafood-and-entertainment-Mecca sits just 20 minutes south of Myrtle Beach on the tidal marshes and creeks that have beckoned seafood lovers for centuries.
Opened in 2002 on The Marshwalk (featured on the Travel Channel and Southern Living magazine), the Dead Dog Saloon is a full-service family-friendly restaurant during lunch and dinner hours, and with three bars, plenty of large-screen HD TVs, and the finest live music in the Carolinas, The Dead Dog Saloon turns into a happy-hour hangout and an after-dinner party spot for dancing.
A Family Restaurant Serving Breakfast, Lunch & Dinner!
Hours & Location
4079 US-17 BUS,
Murrells Inlet, SC 29576
(843) 651-0664
Open Daily
Sunday - Thursday 8am-10pm
Friday - Saturday 8am-11pm