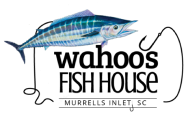 Wahoo's Fish House
With delicious food and drink in a stylish yet unpretentious setting, Wahoo's Fish House brings a refreshing new option to locals and visitors looking for a top-notch Murrells Inlet dining experience. This stylish creekside restaurant offers an extensive menu of creative and innovative cuisine including fresh Murrells Inlet seafood and artistic Murrells Inlet sushi options.
Located right off the celebrated Murrells Inlet Marshwalk, this two-story seafood and sushi restaurant is crafted with large windows overlooking beautiful and charming marsh front views. After your dining is done, stroll next door to Wahoo's Bar & Marina to enjoy the best live entertainment Murrells Inlet has to offer. Travel by boat or car; we have plenty of docks and a lot space. Wahoo's will quickly become one of your favorite Murrells Inlet restaurants.
Charming Marsh-Front Views!
Hours & Location
3993 US-17 BUS,
Murrells Inlet, SC 29576
(843) 651-5800
Open Daily
Monday - Thursday 12pm-10pm
Friday - Saturday 12pm-11:30pm
Sunday 12pm-10pm